Honda Batteries $89.95 at Pohanka Honda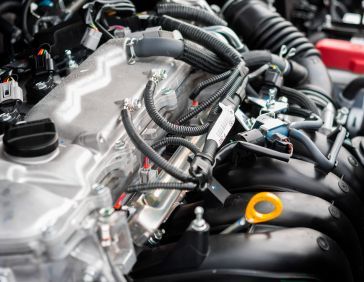 As winter starts to settle in, you'll want to take every measure you can to ensure that your vehicle is operating smoothly and efficiently. This includes checking your battery, so that when the first snowfall hits, you won't be stuck attempting and failing to start your engine. Bringing your vehicle in to have your battery checked at Pohanka Honda in Capitol Heights, MD, is the first and one of the most important precautions you can take to keep your car in tip-top shape for the cold months.
Checking your battery is extremely vital to the health of your vehicle, since the battery is what powers the engine and pumps electricity throughout the entirety of the car. Unfortunately, the winter season has a severe effect on your car battery. As the freezing temperatures settle in, the battery starts losing strength, so the colder it gets, the harder it will be to turn over when you try to start the engine. Getting your battery checked before the winter months settle in is your safest bet to increasing its lifespan.
Our Service Department here at Pohanka Honda is fully staffed with knowledgeable and friendly associates who will do everything they can to make sure you get the best maintenance just for bringing in your vehicle. When you need to have your battery checked at Pohanka Honda in Capitol Heights, MD, you can click on the Service tab across the top of your screen to browse through the various links we have available to help you get the best deal for your maintenance. Utilize our Ask a Tech form if you have any questions about the state of your vehicle prior to, or after bringing it in. Locate our Service Specials to enjoy discounts, coupons, and seasonal deals that could apply to your appointment. If you're worried about your car in any way, fill out the Vehicle Recall Request, which will provide you with information pertaining to manufacturer updates and safety notices. When you're ready to make an appointment with us, simply complete the Schedule Service form and we'll set you up with the next available time to come in.
Even if your battery isn't dying or having any problems, it's still a good idea to have it inspected, just in case it's on the brink of disaster. Once you're ready to bring in your vehicle, our technicians will do a few things to ensure that your battery is fully checked and ready to face the cold. Anything broken or loose is sought out in case something is wrong with your battery, since detached pieces can burn or melt if a short circuit occurs. Our technicians will also search for bumps or cracks in the plastic and will clean off corrosion, so the lifespan of your battery isn't affected by easily-maintained issues.
When you need to have your battery checked at Pohanka Honda in Capitol Heights, MD, come on down to our dealership, where our skilled technicians will have you in and out of service in no time. Pohanka Honda is open seven days a week with convenient hours, so you can make an appointment when it best suits you. Stop by today!
Testimonials
GOOGLE
September 22, 2017
GOOGLE
September 20, 2017
GOOGLE
September 20, 2017
GOOGLE
September 19, 2017
GOOGLE
September 19, 2017
GOOGLE
September 10, 2017
GOOGLE
September 9, 2017
GOOGLE
September 9, 2017
GOOGLE
September 8, 2017
GOOGLE
September 6, 2017
GOOGLE
September 5, 2017
Chrysler
CARS
September 4, 2017
GOOGLE
August 31, 2017
GOOGLE
August 28, 2017
Read More
Service Hours
| | |
| --- | --- |
| Monday | 6:00 am - 8:00 pm |
| Tuesday | 6:00 am - 8:00 pm |
| Wednesday | 6:00 am - 8:00 pm |
| Thursday | 6:00 am - 8:00 pm |
| Friday | 6:00 am - 8:00 pm |
| Saturday | 7:00 am - 6:00 pm |
| Sunday | 9:00 am - 5:00 pm |